Click below for
Information
and
Products
We are a specialized Pawpaw nursery. Our trees are shipped in their growing containers, unless specified as "bare root".We have been Pawpaw People since 1988.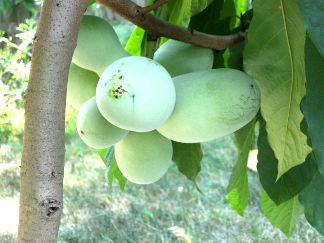 This young Pawpaw tree is already bearing abundantly.
Pawpaw Productstm


Welcome to our site!

We specialize in Pawpaw Seed and Trees,
so that you can start your own Pawpaw Patch.
How about a Pawpaw in your patch?™

Four years after Ron planted little Pawpaw trees from my nursery, they were already 12 feet tall and loaded with fruit. He planted them on the north side of a building in USDA zone 6, and gave them optimal care: drip irrigation and top dressings of manure.
Enjoy learning about Pawpaws on our site!